Wing Soon Food Manufacturer Pte Ltd specializes in the manufacturing of an extensive range of sauces, pastes and pre-mixes and distributing its products through its trademarked "Octagon Star" brand. Firmly established in 1970 and at the forefront of the food manufacturing industry, the company has been creating and delivering rich flavours from its main operations at Bedok North, Singapore. Wing Soon Food Manufacturer Pte Ltd is currently helmed by 3rd generation family members Mr. Loke Tuck Wai and Mr. Loke Tuck Hong.

In the 1940's, tucked away at the back of my grandfather's house in Malaysia; that's when and where we first began. Turning his passion into a small family business, my grandfather started by producing quality soya sauce, oyster sauce and grinding chilli paste. These products were sold only to wholesalers. Business was brisk. In 1965, leveraging on the increase in market demand for such products, the business relocated to Singapore.
Despite the growth in product range and capacity, we never compromise on ingredients, quality, taste and hygiene.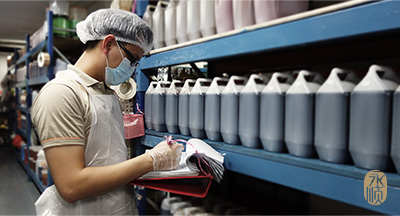 The company had to evolve according to its business environment as we moved forward. Our product range and our production capacity increased. We began catering to customers in small and large food establishments. We formulate and manufacture in-house brands.
Processes were semi-automated to better cope with the demand, allowing us to take on export orders. Today, with an extensive product range of more than 100 items, we are able to provide a one-stop solution to our customers, many of whom have been treading this long journey with us.
Having acquired a new manufacturing facility in Malaysia in 2013 and with many processes being automated, the company will be better equipped to cater to the demands of both the local and foreign market. Wing Soon Food Manufacturer Pte Ltd will look forward to continued improvement and exponential growth and we welcome you to join us on this journey.